Facial Massage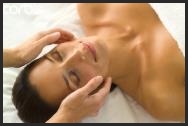 20 min $50.00
If you want a massage that focuses on your face, neck and shoulders then this may just be for you.
A facial massage can enhance your complexion and has long been known to stimulate circulation, which increases blood flow to delicate capillaries in the skin's upper layers.
With a facial massage, you will be treated to the luxury of a warm facial compress, which will include the use of luxurious facial massage oil that all helps leave your skin feeling moist, soft and silky smooth.
Nothing is quite as wonderful as a facial massage, nor works as well to relax and provide a sense of well being.