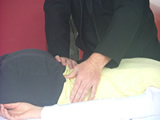 Pure Shiatsu
30 min $50.00
60 min $90.00
Pure Shiatsu is a style of massage that was developed in Japan. The treatment is performed fully clothed and traditionally you are on a comfortable futon lying on the floor.
The technique of Shiatsu uses thumbs, fingers, hands, forearms, elbows, knees and feet along with great stretches. Shiatsu is non-invasive; no needles or instruments are used.
Shiatsu may help with the symptoms of many modern problems.